Sponsorship
Do you want to be a game changer?
The Mission
Do you believe in good sport?
The mission of the 2019 Symposium on Match Manipulation and Gambling in Sport is to:
Build awareness of the growing issues of match manipulation and gambling in sport;
Convey how match manipulation is being managed and regulated internationally;
Share perceptions and experiences on the issues; and
Shape solutions for the Canadian sport community.
Get the kit!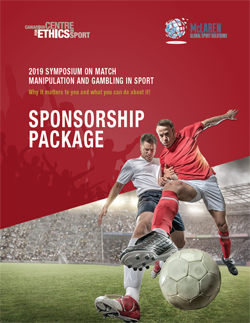 Be A Part Of It and Be Recognized
Receive optimal brand visibility.
Promote your organization through:
Pre-event online promotions;
On-site networking opportunities; and
Post-event recognition;
Contribute to the development of a Canadian model designed to protect our sport system.
Engage with leaders from the sport and gaming communities.
Support integrity in Canadian sport by:
Increasing the number of specialists in the field who are present to share their expertise;
Optimizing the opportunities to share key awareness and educational resources; and
Enhancing our ability to reach our target audience.
For additional information about sponsorship opportunities, please contact symposium@cces.ca.